Whether you are utilising a free or paid EdPlace teacher account, there will be a limit on the number of registered student accounts you can claim. For the free account, this is 30 in total during school hours, 5 of which can be gifted unlimited access for at-home use. (To learn more about these limits, please click here.) When teachers or schools subscribe to a paid account, you or your administrator will choose your maximum class size for unlimited access, 24-hours-a-day.
We know that students may join or leave your class, so there will be some flux in your accounts over the course of a whole year. If your overall number of students broadly stays the same or you are working within the 30 free accounts cap, but the students themselves are changing, you can easily manage your licenses within your EdPlace teacher account.
If you have a paid account and you find that you need more student accounts, then you will need to move up to the next pricing band from your current subscription or ask your administrator to do this. To find out more about our flexible pricing options, please click here.
Firstly, log in to your tutor account at www.edplace.com/teacher.
On your homepage, you will be able to see an overview of your current active students and remaining 'seats' to use: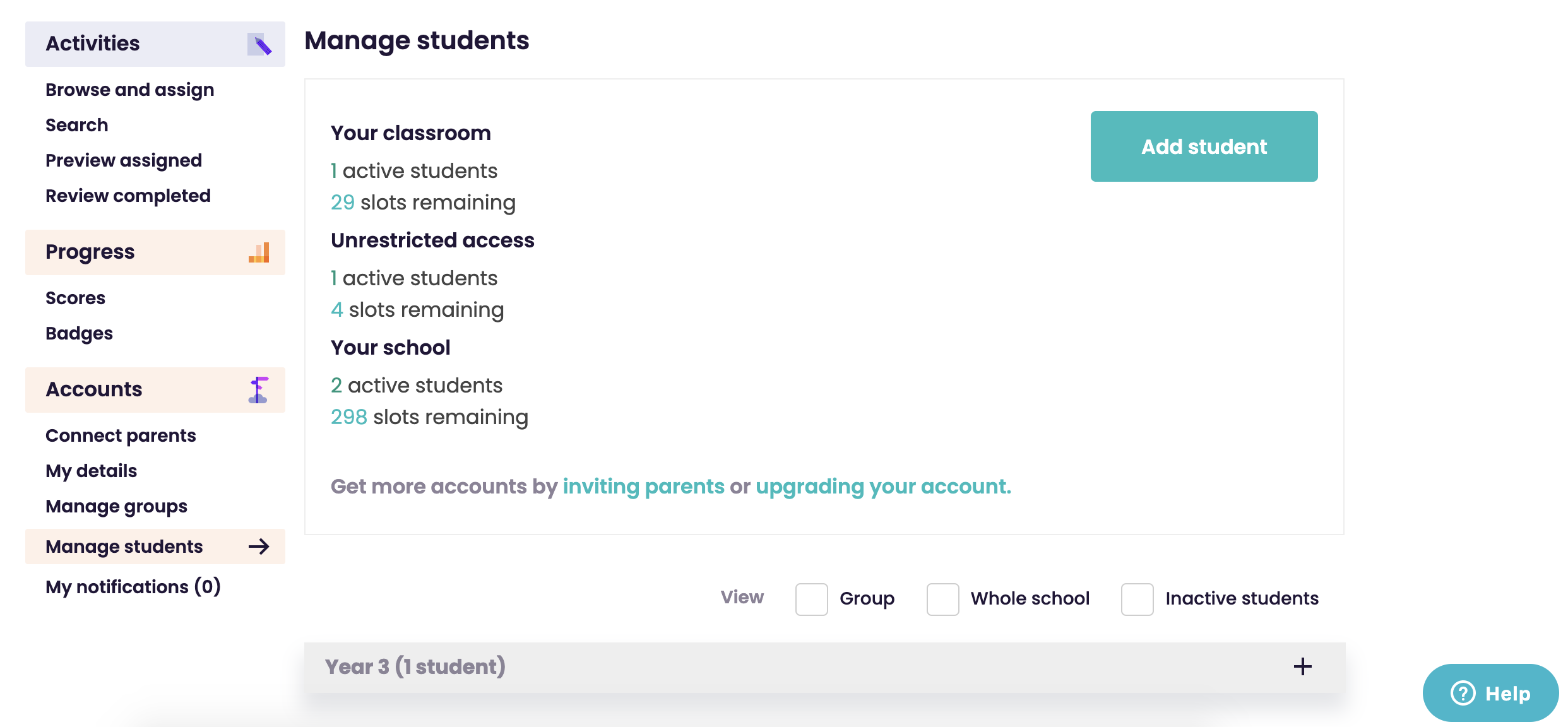 We class your students as either 'active' (students you are currently working with and who require regular, ongoing access to an EdPlace account) or 'inactive' (students who are not working with you currently but have in the past and may return, so we want to keep their data on file for you).
In the example above, the account has 100 possible student account to use of which, currently 2 are in use, so there are 98 remaining to be used.
To manage your linked student accounts, click on the 'Manage students' tab in the left-hand menu of your dashboard.
You will see a checkbox in the top, right-hand corner which allows you to either include or exclude your inactive students:

If you have this checked, you will see all your students from all-time listed below and grouped by years.
If you have blank, you will see only your currently active students, with inactive students hidden. This number of currently active students will exactly match the amount reported on your homepage.
Please note, you can select 'Whole school' if you wish to view all students in your school (rather than just your class), and you can select 'Group' if you would prefer to see your students listed by groups, sets or classes rather than school years.
Each individual student will have two curriculum setting options which can be turned ON or OFF (to learn more about these, please click here), the option to connect parents, a switch to grant unrestricted access plus a 'Status' option:

You can simply move this status between active and inactive to manage your account numbers.
Please note, when a student is in an 'inactive' state, they will no longer be able to log in or access EdPlace but all their data and past performance will be stored.
We strongly advise that these statuses are not switched regularly as this can lead to your license number and active students becoming out of sync. Plus student accounts can become corrupted if too many regular status changes are actioned, which may be irreparable and result in lost student data. Once a student has been moved to an inactive state, it may take up to 48 hours for an additional free student license to become available to use.
Hopefully, you now understand the tools you have available to manage your student accounts and only enable those who need to have regular EdPlace access. But, don't worry, all student work and progress will be maintained forever so, if a student returns to your class, everything will be ready for them to pick up where they left off. Also, when your class moves on at the end of each school year (sad times!), you can simply transfer their EdPlace accounts to their new teacher so they know how each student is doing and you can get started with your new class. To learn more about how to do this, please click here.
If you have any further questions about managing your student accounts or if you need any further help at all, please contact our friendly Customer Support Team via email at help@edplace.com.