We know your time is precious, which is why we are on a mission to make reviewing your students' results as easy as possible. This easy-to-use feature means you can download a CSV of student data in a flash!
You can watch the video of how to do this, or if you'd prefer, scroll down to read the steps, tips and examples below.
First, head to your dashboard and select 'Review completed' where you are able to choose your filters so the CSV shows only the data you're going to find the most useful: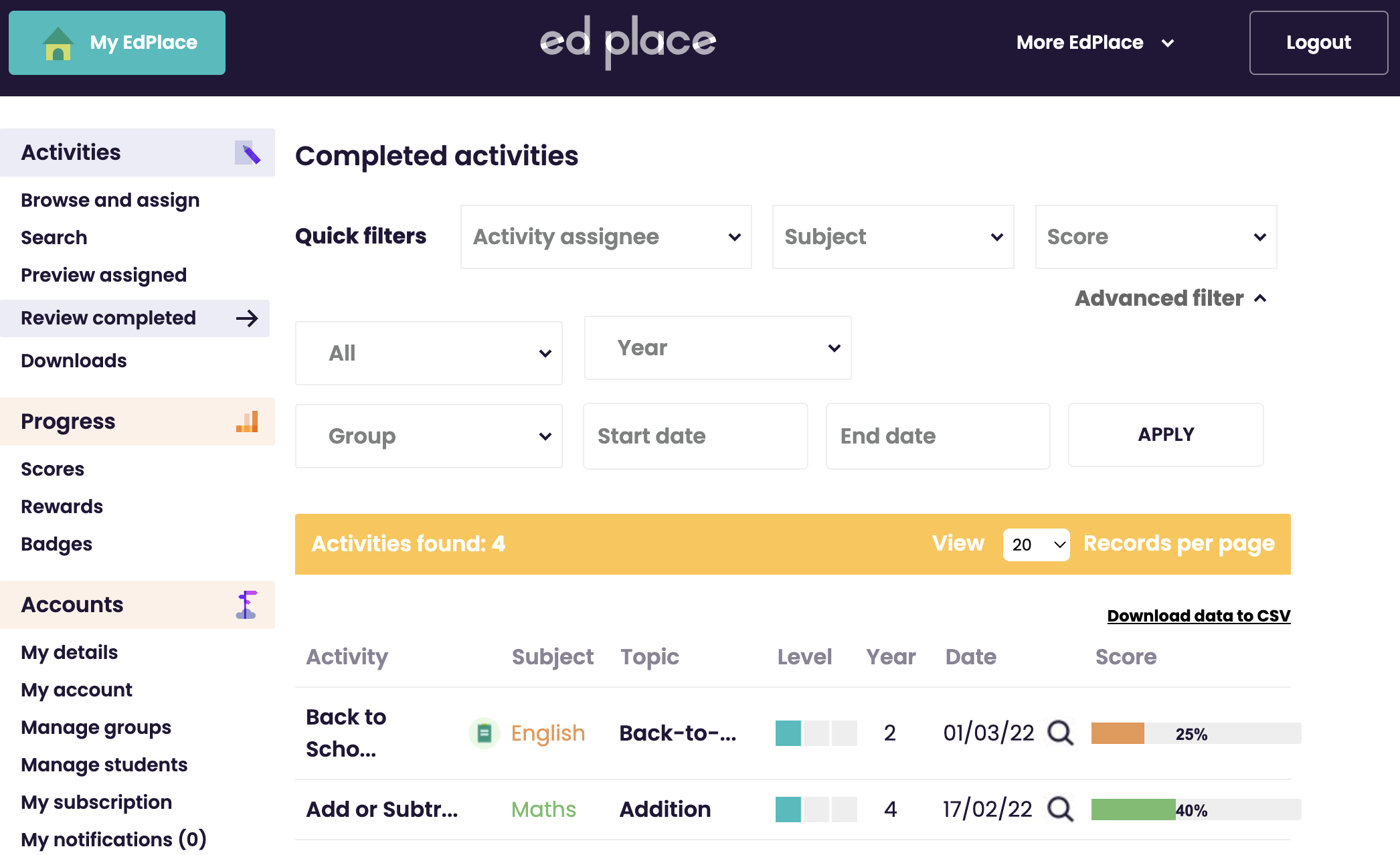 Quick filters:
Activity assignee -

view the data relating to all your students, or just one particular student. To view a group of your students (which you must have already set up), you can select this within the advanced filters (see below for more information).

Subject

- this is useful if you are completing analysis on one subject rather than a general overview.

Score

- you may choose to view only those students who have scored within a particular range.
Advanced filters:
Activity type

- select whether you'd like to view data on worksheets, assessments or both. If you select 'Assessments', and you want to compare the information for only a single assessment, you can filter by the 'Subject' and then choose this within the 'Assessment name' field which will appear.

Year group

- you may want to see all student data across your classes, or select one in particular.

Your own groups - our handy groups feature means you can organise your students in a way that works best for you so when downloading the report, you may want to view a particular group's results.
Date

- select the date range within which the activities were completed - this can be useful for time comparisons.
Once you've entered your chosen advanced filters, simply click 'Apply'.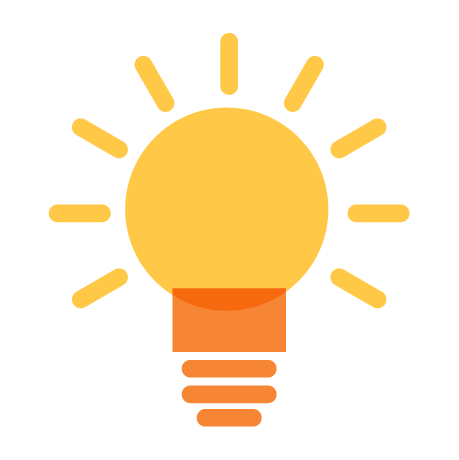 The most important thing to bear in mind when you use the filters, is that you need to have the correct information showing in the table below before you generate your CSV.
Once you've hit 'Download data to CSV', please be patient! Depending on the amount of data you've requested, this may take a few minutes to appear in your 'Downloads' tab.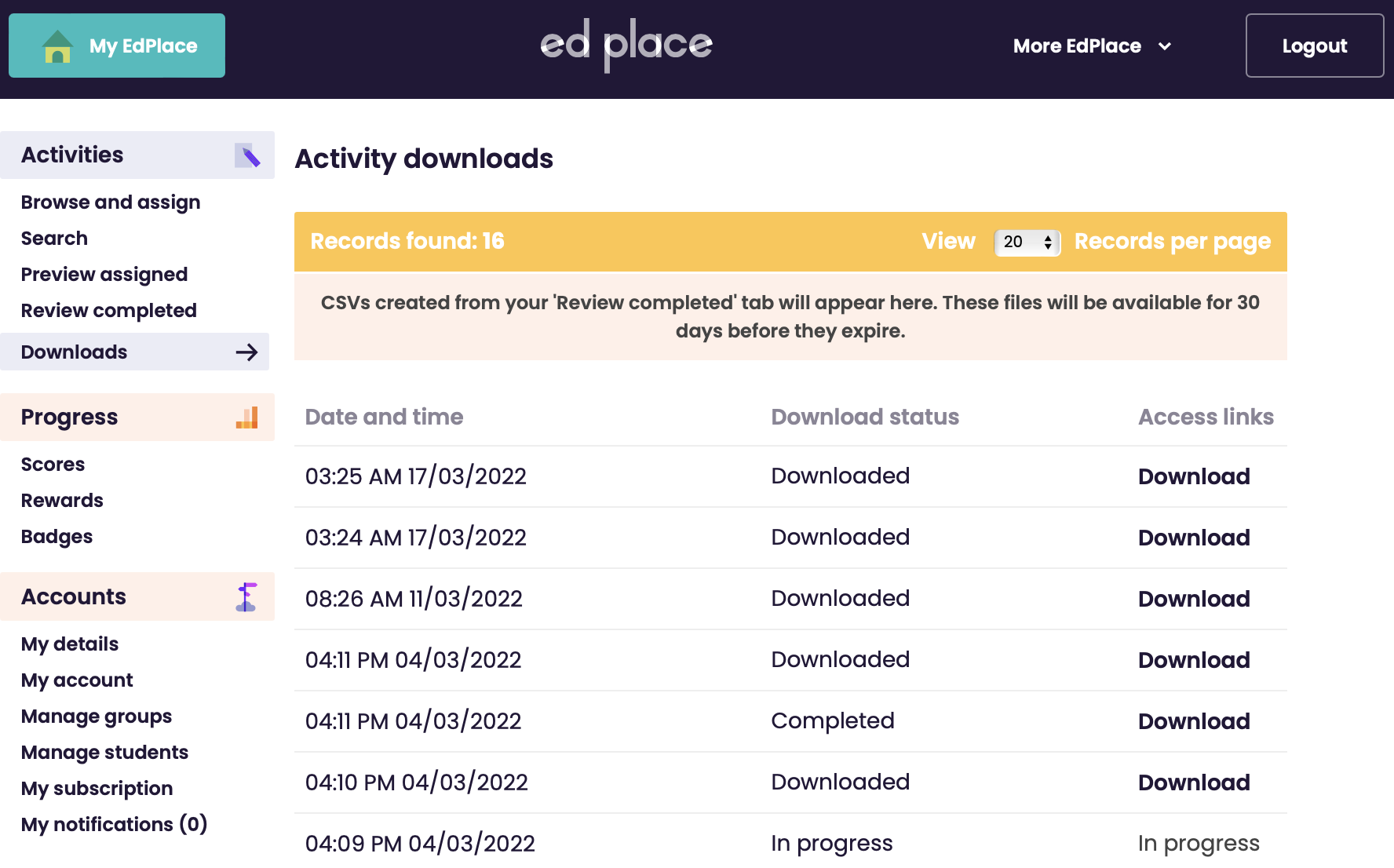 This feature is particularly useful for viewing your class or group's scores following a recent assessment. Here is an example:

Mrs. Matthews is keen to see how her Year 7s are performing in maths as she thinks the sets may need some re-jigging and she would like to see which topics generally appear to be more challenging. They have recently completed the 'End of Term 1' assessment so, rather than looking at everyone's scores individually, she heads to the 'Review completed' tab to create and download her CSV of class data. Luckily, she's already saved lots of time as they have all been automatically marked for her!

Once she has used her filters to download the correct data, she needs to head to her 'Downloads' tab and this is what she is able to see: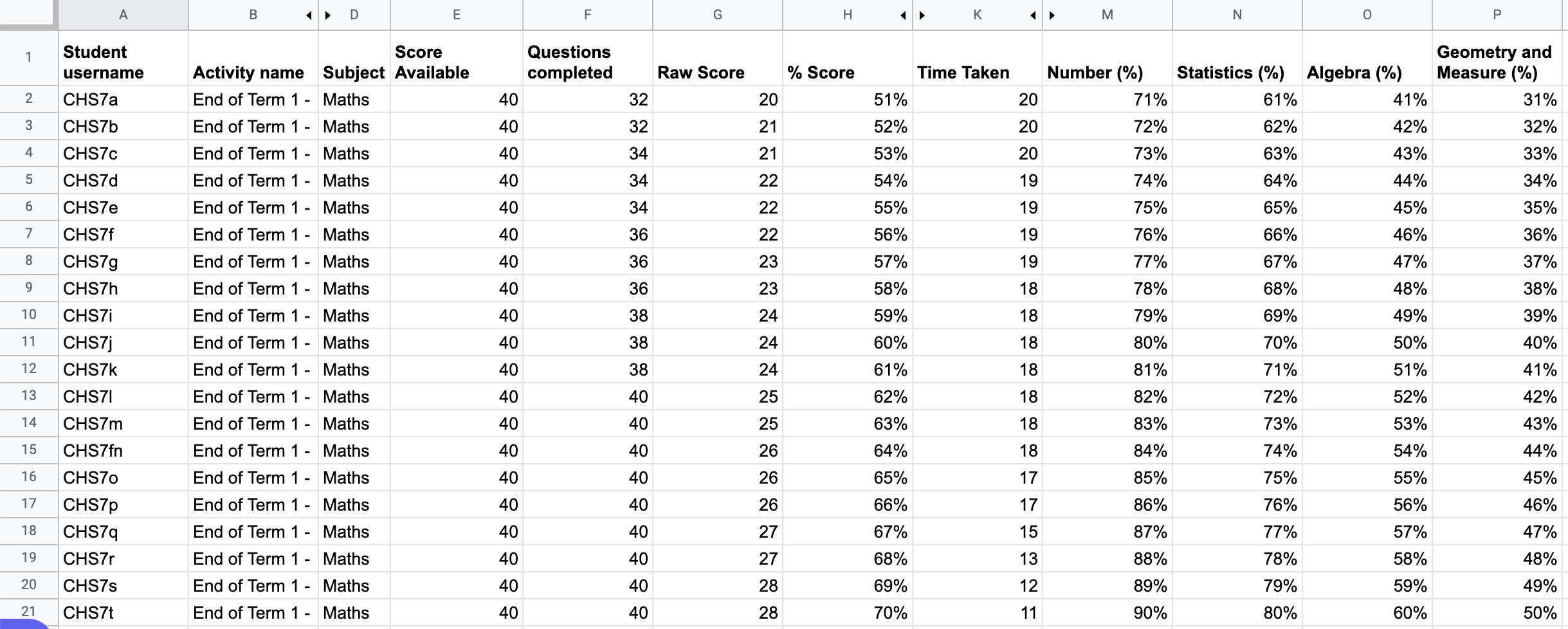 She is also able to identify that 'Geometry and measure' is the assessment skill with the lowest average scores so she can make this a focus within her planning in order to build her pupils' levels of understanding in this area. She can also bulk assign selected 'Geometry and measure' activities to her students for further practice. More on how to do this here.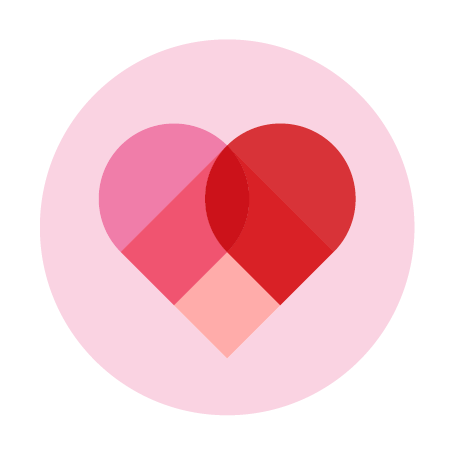 We hope that this information will enable you to review your students' progress with ease. If you need any further help with this or have any questions or suggestions, please contact our friendly Customer Support Team via email at help@edplace.com - we are here to help you get the most out of using EdPlace!