We know that the most valuable use of teacher and tutor time when supporting students through the National Tutoring Programme is the delivery of personalised tuition. For this reason, EdPlace assessments are all automatically marked, reducing the workload on the NTP tutor or school teacher, as well as giving students immediate feedback as they progress through the assessment.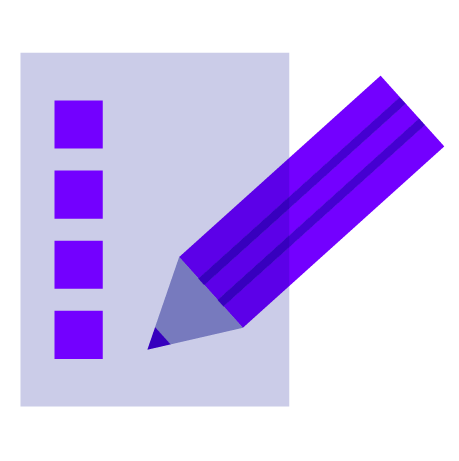 Overall scores
Each year group's catch-up assessment will vary slightly in the number of questions asked, to reflect what is appropriate for different age groups in terms of concentration and the complexity of the curriculum for this age. We want to ask just enough questions to get a reliable and informative result, but not too many to drain or demotivate students.
In most cases, each question is worth one mark and the question weighting for each key stage is as follows:
Years 1 and 2 = 20 questions

Year 3, 4, 5 and 6 = 30 questions

Year 7, 8, 9, 10 = 40 questions
In some cases, the raw score at the end of an assessment may differ slightly from those numbers shown above. If this occurs, it will be because a certain question type has appeared within the assessment in which a student can receive partial marks for their answer (we have one question type where this is applicable, more info below).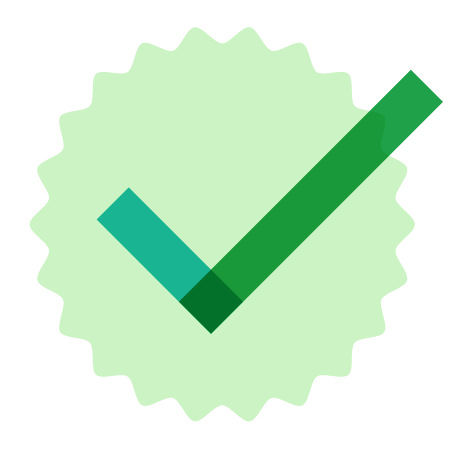 EdPlace question types
We use a range of 12 different question types within our assessments which allows for variety and allows the testing of different skills whilst automatic marking throughout. For 8 of these question types, the information is already present to the student and, therefore, they are simply required to identify the correct answer or the correct punctuation/underline the correct word.
There are 4 question types where the student will be asked to free type their answers:

Text box questions allow a student to free type a word, several words, or a sentence;
Fill in the blank questions allow a student to free type a response into each blank space (one word per blank);
Answer grid questions allow a student to free type an answer within a grid and this question type also allows for partial marks to be awarded;
Multiple text labelled questions allow a student to free type two answers that share a connection with one another.
When free typing questions have been employed, EdPlace teachers will provide specific instructions to encourage students to express their answers in a format that can still be automatically marked. Usually, teachers will have added multiple correct answers here so that the exact wording is not required, however, depending on the number of possible answers, only one choice may be shown if the student is incorrect e.g.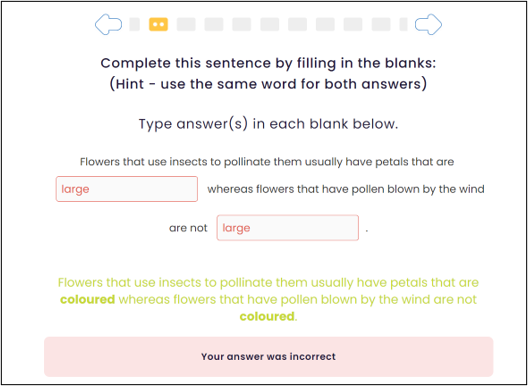 Part of the challenge of this question type is for the student to read, understand and apply the instructions correctly. In the example above, it can appear that there is only one possible correct answer, however, the teacher has inputted the following options for this question: coloured, colourful, bright, vivid, eye-catching, vibrant, brightly coloured, bright-coloured. So if a student opted for any of these words they would be marked as correct.

Assessment PDF report
In the PDF report, there are a variety of scores available which will clearly demonstrate a student's understanding and can then be used to measure progress when the assessment is completed a second time. The marking of the assessment and presentation of the PDF report will also allow NTP tutors to get the insight they need to maximise their tuition time and ensure their tuition plans are targeted and personalised.
There is the total score for the assessment, shown as both a fraction and a percentage:

And the summary of performance: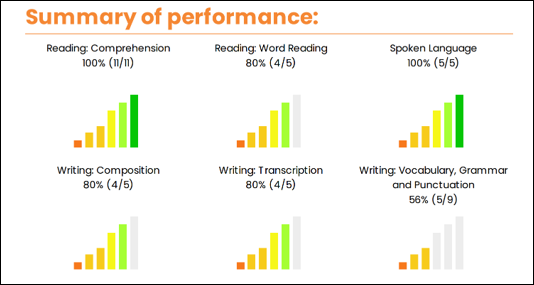 Here you can see how a student has been marked in each National Curriculum area, in terms of the number of questions they were presented within each. Our assessments have been designed with the number of questions in each National Curriculum area reflecting the weighting of this objective within the curriculum. For each National Curriculum area, you will see a graphic representation of student understanding, a score as a total, and a percentage. To learn more about the PDF report and how to use this data, please click here.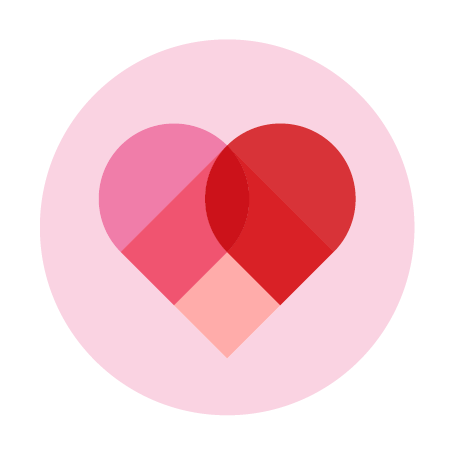 We hope this article is helpful but please do not hesitate to get in contact if you have any further questions or need any support. To contact our friendly Customer Support Team, drop us an email at help@edplace.com.