We know your time is precious, which is why we are on a mission to make reviewing your child's results on EdPlace as easy as possible! This feature means you can download a CSV spreadsheet of your child's activity completion data in a flash!
You can watch the video of how to do this, or if you'd prefer, scroll down to read the steps, tips and examples below.



First, under 'Review completed', select the 'Advanced filter' dropdown and here you are able to choose your filters so the CSV shows only the data you're going to find the most useful: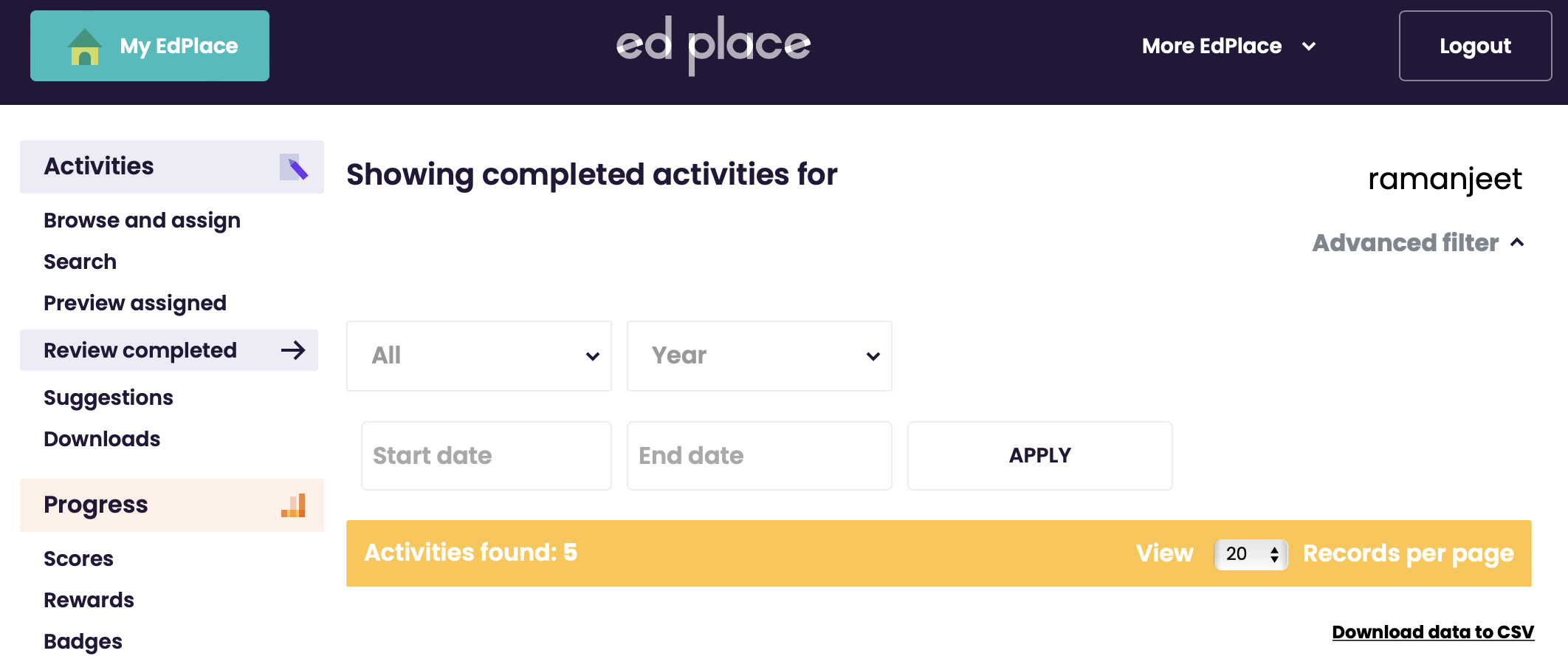 You can filter by:
Activity type - select whether you'd like to view data on worksheets, assessments or both. If you select 'Assessments', and you want to view the information for a single assessment only, you can choose this within the 'Assessment name' field which will appear.

Year group - you may want to see all the data from just one year group in particular.

Date - select the date range within which the activities were completed - this can be useful for time comparisons.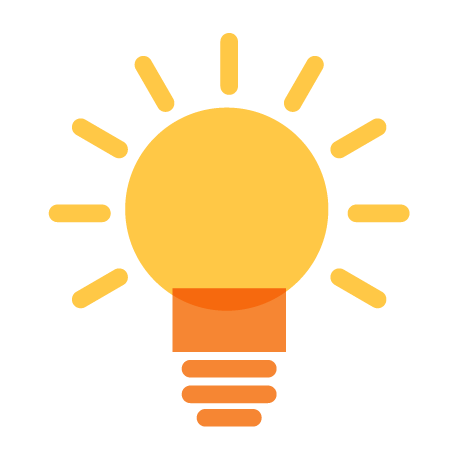 The most important thing to bear in mind when you use the filters, is that you need to have the correct information showing in the table below before you generate your CSV.
Once you've hit 'Download data to CSV', please be patient! Depending on the amount of data you've requested, this may take a few minutes to appear in your 'Downloads' tab.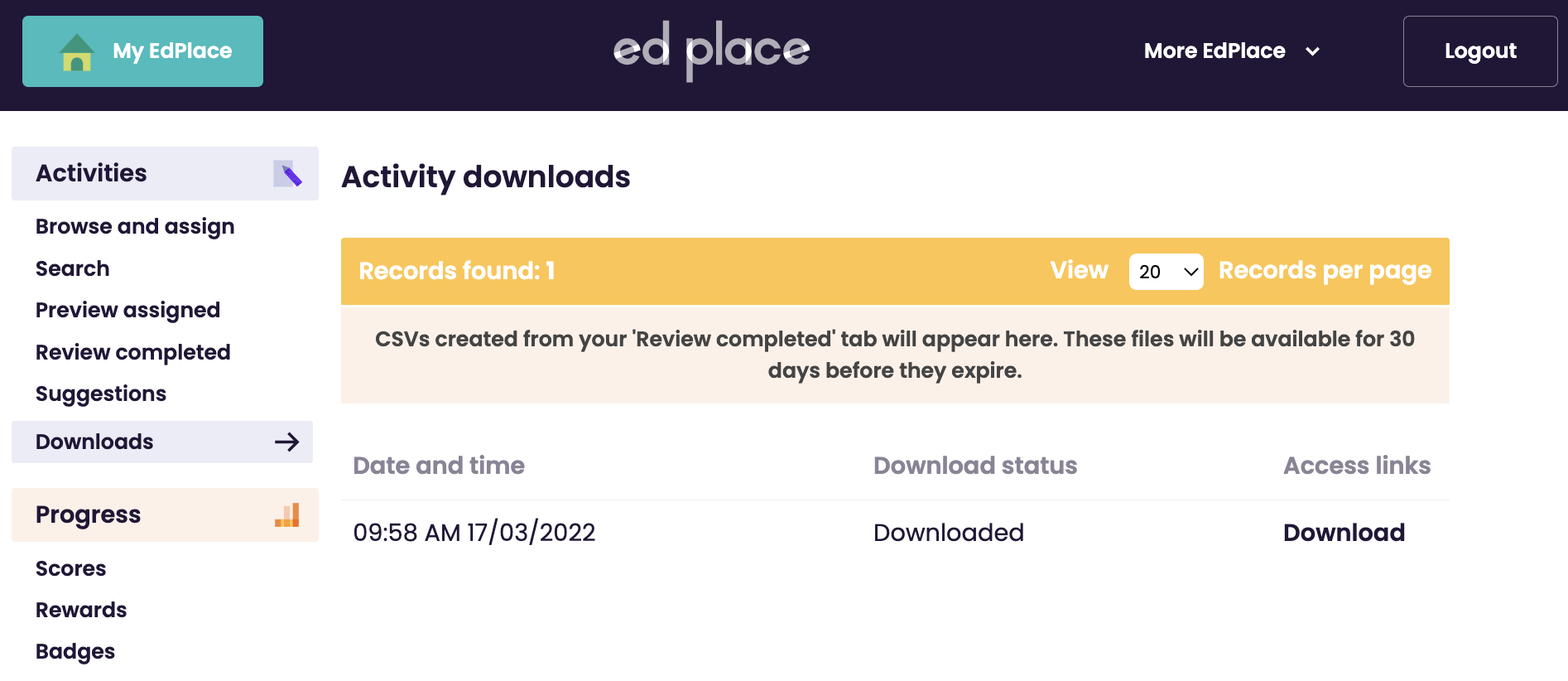 This feature is particularly useful for viewing scores following a recent assessment - here is an example:

Sara is creating a home learning plan for her son for the next month. She has seen improvements since the last assessment, and is keen to see which topics are still more challenging for him. He has recently completed the Year 5 English End of Term 2 assessment for the second time so she can compare how he is performing now with his previous scores. She heads to the 'Review completed' tab to create and download the CSV. Luckily, she's already saved time as it has been automatically marked for her!

She heads to her 'Downloads' tab and this is what she is able to see:


Great news! His hard work on EdPlace is definitely paying off as his score has increased to 81%! She is also able to identify that 'Writing: Grammar, Punctuation and Vocabulary' is the assessment skill with the lowest average score despite showing some improvement. Sara can now head over to her 'Browse and assign' tab to assign some 'Grammar, Punctuation and Vocabulary' activities to her son for further practice. More on how to do this here.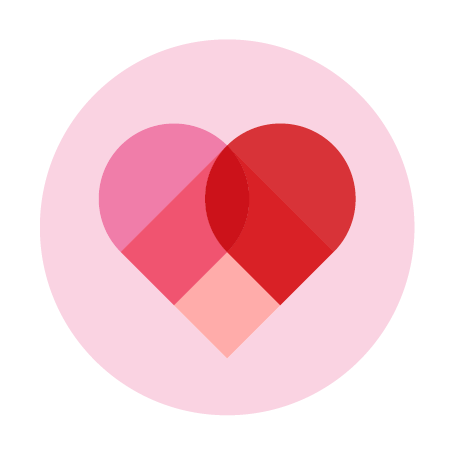 We hope that this information will enable you to review your child's progress with ease. If you need any further help with this or have any questions or suggestions, please contact our friendly Customer Support Team via email at help@edplace.com - we are here to help you get the most out of using EdPlace!