Getting the best out of EdPlace as an educator means keeping an eye on how each student is doing - luckily, we make this very easy! You'll want to know where your students are doing well and where they're struggling. For more information on reviewing detailed EdPlace data and analytics please click here, otherwise read on to find out more about general monitoring of progress.
The vast majority of our activities are automatically marked by our system, as they are either correct or incorrect. In these cases, results will show immediately to both yourself and your student.
Monitoring completed work
First, find the name of the student you want to check on in your teacher dashboard homepage and click on the 'Completed' number next to their name:

This will take you to a list of all their completed worksheets with a score and completion date next to each:

If you click on an individual activity then 'Review answers', you can see the answers submitted by your student, our marking of their work, and an explanation of where your student might have gone wrong. Your student can review the same information in their account when they complete an activity or from their completed list, so you may find it to be a beneficial activity to sit with them and review tricky activities together.
Marking activities without scores
Manual marking is required for descriptive questions where students are asked to input a more subjective answer, such as typing a short paragraph. Activities of this type usually occur in English and in some of our higher-level activities where multiple marks are available (e.g. GCSE practice papers).
Once your student has completed an activity that requires manual marking, it will appear in the 'To Mark' list next to their name on your homepage (see visual above). If you click on this list, you can see all activities in need of your review: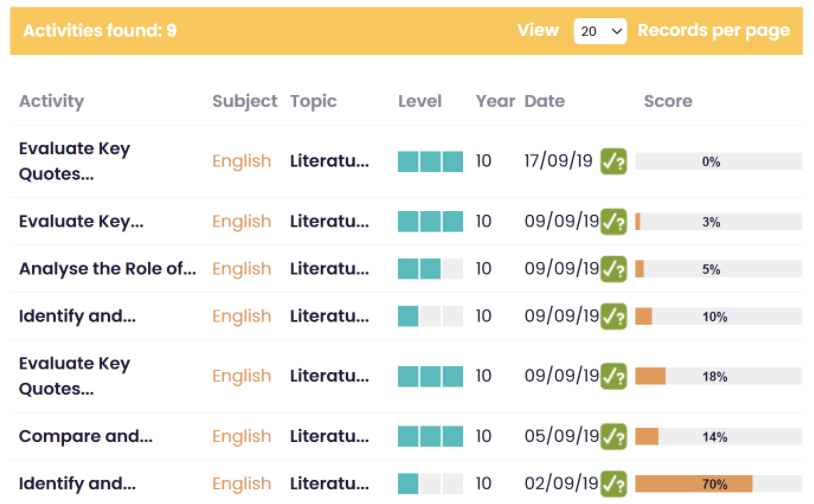 If a score of '0%' is shown, then the entire activity requires marking. Where a partial score (in orange) is currently shown, this indicates that some of the questions in the activity are objective and have already been marked, whilst a proportion require manual marking.
Click on an activity title then hit the 'Start marking' button: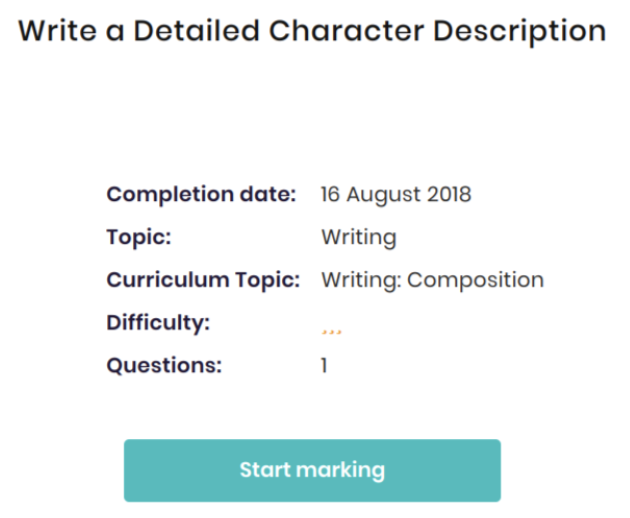 Where you see a message such as 'Eva's answer was correct' or 'Eva's answer was incorrect', this indicates an objective question that has already been automatically marked by our system.
Where your student's answer is shown alongside a guide 'How to mark' (which will usually contain an example answer), your input is required: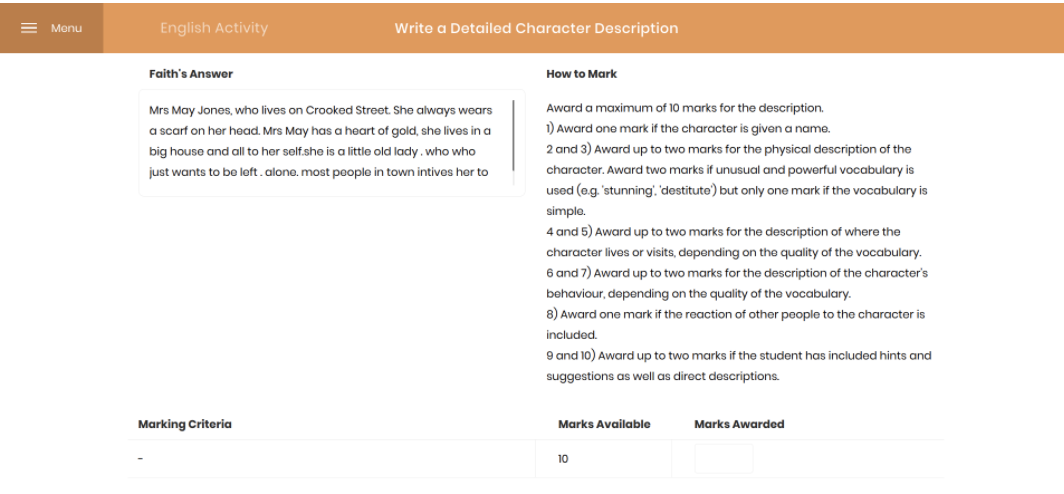 Read each criterion with the possible marks available next to it, then consider what your student has written and how well it fits this description. In the 'Marks Awarded' column, type the number of marks you feel they have earnt: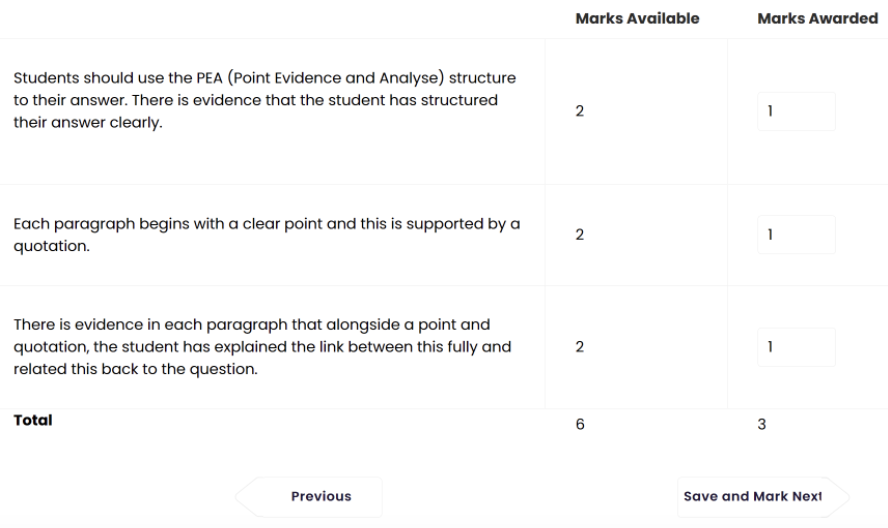 Complete all boxes then hit 'Save and next' to move on. (The total marks will be automatically calculated for you.)
Go through all the questions and click 'Finish marking' to complete the marking process and save your student's updated score. Once complete, your student will be able to see their score and you can review their activities at any time.
For older students (and particularly at GCSE), you may want to consider logging in to your educator account with your student and allowing them to mark their own work with your support. This 'Be the examiner' experience is very common for older year groups, as it can be really beneficial for students to see first-hand where they have earnt and lost marks.
We hope this advice is helpful but if you do need any further help or guidance on monitoring student progress, please do get in touch with our friendly Customer Support Team via email on help@edplace.com.