As our free teacher account is only available to teachers employed by a registered school in the UK, we need to ensure that each teacher is actively employed within the school they have requested to be linked to. This guarantees our free accounts are being used by, and reaching those, who need us most.
Therefore, all accounts need to be verified and approved by your school's office within 72 hours to ensure you have ongoing access to your account. If your account is not unverified after this date, unfortunately, you will be unable to login until your office verifies that they are happy for you to be connected with the school you have requested.
Every effort has been made to ensure that we have the correct contact information on file for your school, however, on rare occasions, this may be out of date or incorrect. If you believe this to be the case, we can look into this for you and will be happy to put it right if required - contact us if you think our verification details for your school are incorrect at help@edplace.com.
How does my office verify my account?
When you create a free teacher account, we automatically send an email to your office letting them know you've signed up. All they need to do at their end is click on 'Verify this teacher' and, Bob's your uncle, you'll have free teacher access forever!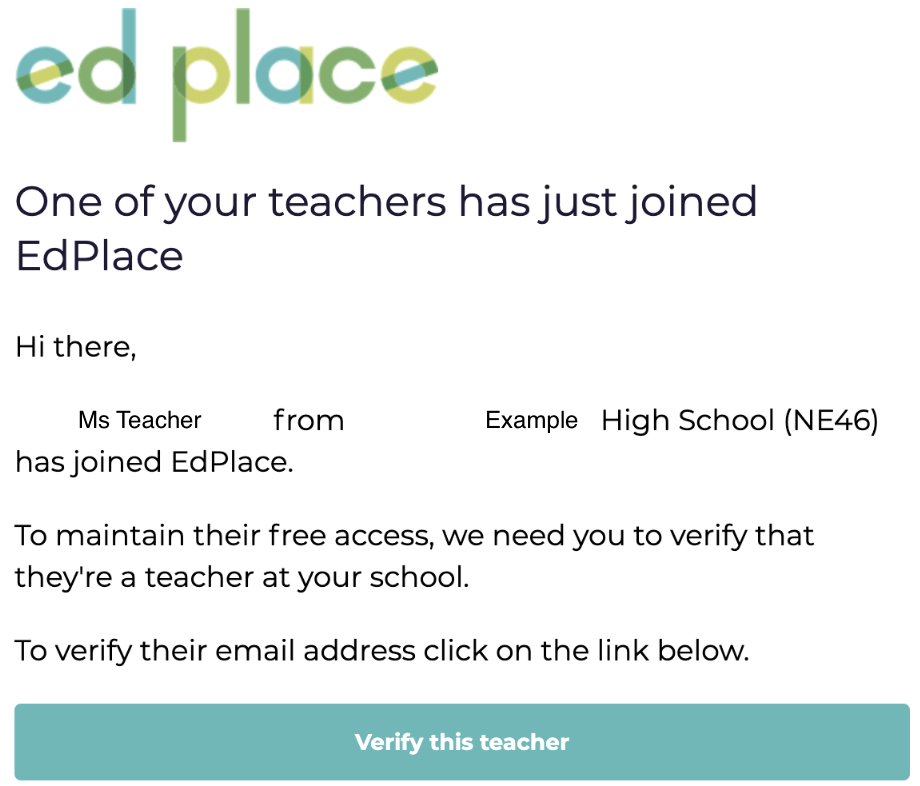 We hope this article has helped you understand why we need to verify your free teacher's account and how this can easily be achieved. If you need any further help or to amend your school's details or verification email on our database, please contact our friendly Customer Support Team at help@edplace.com. Please provide the full name, physical address and email for verification of your school if you would like to request a change.
Please note, all requests will be fully investigated and aligned with Department for Education records before any changes to our database are approved.