We know that you will be managing the needs of several students, so we want to support you in doing this and make your life as easy as possible!
Within your educator account, you will see a 'My notifications' tab, where all key student activities of importance will be logged and reported to you. The number reported here will indicate how many new notifications you have to review: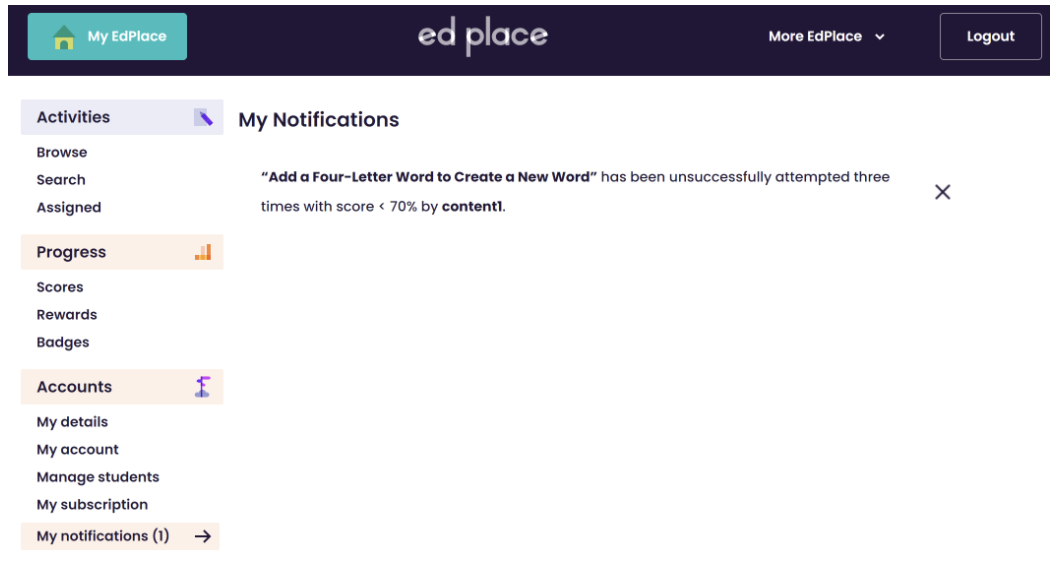 To clear your notifications (and return the total to 0), click on the 'X' icon next to each to indicate that you have read and actioned each notification. If you have more than one notification showing on your homepage, an option will also appear to Clear all notifications. (Once clicked, this cannot be undone so please ensure you have reviewed carefully before using this feature.)
These notifications are often linked to automated emails too, which will be automatically sent to your registered email address when a notification is raised.
You will receive a notification when any of the following occurrences are logged:
A student unlocks a badge [email only];

A student completes the same activity three times with a score lower than 70%

.
We have chosen these occurrences to generate a notification as we believe that these are moments when your intervention can really add value to a child's learning experience. Perhaps they need some support with a really tricky concept so that they can move forwards with confidence. Also, it's always fantastic for them to hear a big "Well done!" when they have achieved something significant.
* Please note, based on feedback from our teacher users, we have made the decision to remove the automatic alert when a student's activity requires manual marking. On occasion, this number of notifications could become overwhelming and unhelpful, particularly if there are a large number of students linked to one account. However, don't worry, it is still very easy to recognise when manual marking is required, as there is now a separate listing for each student on your homepage to draw your attention to this instead:

Simply click on the number shown under this heading (9 in this case) to link straight through to a list of activities to mark. To read more about manual marking, please click here.
We hope that our automatic notification and email systems will make using EdPlace to support your students an absolute breeze, by bringing to your attention key moments of achievement on an individual basis. If you have any more questions about how our notifications work or about your account in general, please contact our friendly Customer Support Team via email at help@edplace.com.