Our 11+ English, maths, verbal reasoning and spatial and non-verbal reasoning activities cover the topics your child will need to know for their 11+ exam. Plus our 11+ content is aligned to GL and CEM examination boards which is a massive bonus!
Why do EdPlace 11+ activities begin in Year 3?
Our unique approach to 11+ exam preparation builds confidence by scaffolding the skills required progressively. This is why our 11+ resources are the only online option to start preparing children from Year 3.
Does EdPlace cater for different exam boards?
EdPlace 11+ content can be used by students in all regions and is aligned to GL and CEM examination boards. If you are not sure what exam board your child needs or you want to keep their options open, you can choose our 'General' view for a thorough introduction to all possible 11+ concepts covered in all regions.
What is the EdPlace 11+ approach?
Our unique approach to 11+ preparation aims to reduce exam pressure and build up skills and confidence so that your child is really ready to smash the exam by Year 6!
We have designed three levels of activities, all targeting a different stage in your child's learning journey: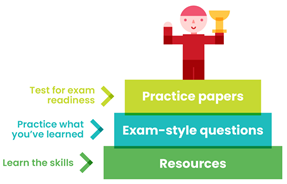 How can I be sure my child will be exam-ready by Year 6?
Our mission has always been to help children be successful at school, with a particular focus on offering support at key milestones such as the 11+ exam. Our activities are written by experienced 11+ tutors, contain comprehensive teacher explanations and are automatically marked to support your child's independent learning. Our 11+ exam-style questions develop confidence and speed with timed questions and our realistic, full-length practice papers ensure that Year 5 students are totally familiar with the rigours and timing of the exam so that they are ready to deliver their best on exam day.
Can I search for 11+ activities to assign by exam board/topic/year group?
Yes! We've designed your EdPlace account so that you can search for relevant 11+ activities by exam board, curriculum topic and year group. In the left-hand column of your parent dashboard, select 'Browse and assign' and you will see the number of 11+ activities available categorised by Key Stage and year group: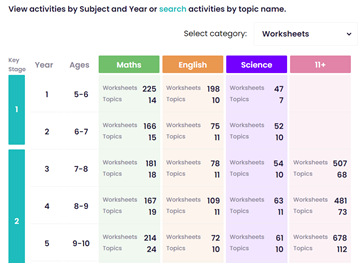 After you have identified the relevant year group for your child, you can then filter by the two 11+ exam boards (CEM and GL) or a more 'General' overview. You will also be able to filter and assign activities using our parent-friendly 11+ Question Types topics: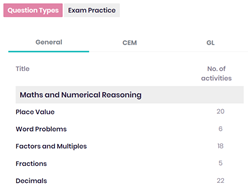 How can I be confident my child is making progress in their 11+ preparation?
We have 3 flight paths or levels of challenge at EdPlace which are represented in the parent and child account with a dash, like this:

One dash represents an activity that is created for a student building the foundations of understanding in a skill or needs to recap a topic.

Two dashes represent an activity created for a student who is consolidating a skill or topic and there has some level of prior understanding or confidence before beginning.

Three activities indicate a stretch and challenge students who have secure topic knowledge in this area.
You can use our level system to track your child's progress by assigning activities in more challenging areas. It is worth noting that you can assign activities at different levels for different skills.
We also offer Year 5 students exam-style questions and timed practice papers, tailored to 11+ exam board specifications, to track exam readiness. In your parent account, such revision resources can be easily found in the 'Browse and assign' menu. You then select the 11+ area relevant to your child's Year group, and use the toggle to switch between the 'Exam-style questions' and 'Practice papers' lists: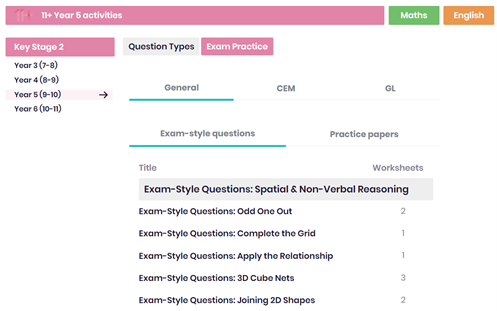 We hope this article has helped you to confidently understand our 11+ offering so that we are able to best support your child to succeed in their 11+ exam. If you have any questions or need any further help, please contact our friendly Customer Support Team via email at help@edplace.com.
Don't forget to check out our 'New release information' section or keep an eye on your emails to stay up-to-date with all new resources and developments at EdPlace as soon as they occur!